A Haunted History Tour of New Orleans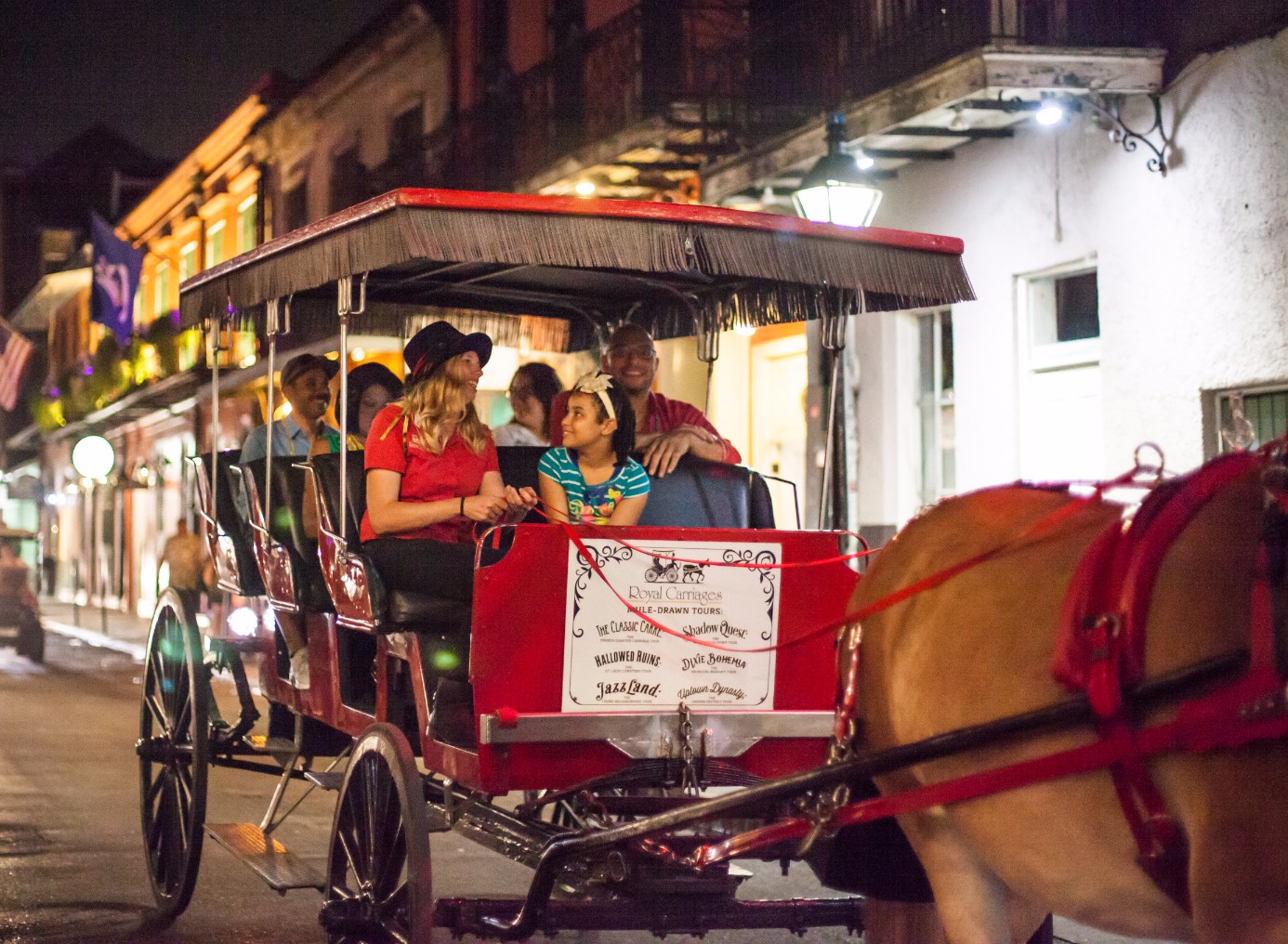 FEEL THE FRIGHT OF THE NIGHT WITH NEW ORLEANS' BEST HAUNTED TOUR
Why is the French Quarter is considered to be one of the most haunted neighborhoods in America? Thanks to 300 years of tragedy, New Orleans is filled with true stories of ghost, voodoo, and vampires. With so much paranormal activity happening in our city, the best way to tour these haunted locations is by carriage ride at night.
Royal Carriages is the oldest and best New Orleans tour company in New Orleans, and the History & Haunts Night Tour is the best Haunted tour in New Orleans. With a local guide, you'll trot around the streets of the French Quarter hearing true historical stories that give life to spirits in the city.
A carriage tour at night, what a wonderfully spooky way to see the town, learn a bit of history, and experience a one-of-a-kind adventure! If you are looking for the best haunted tour in New Orleans, make sure make a reservation with Royal Carriages.
Royal Carriages was awarded the
2018 Louisiana Attraction of the Year Award
by Louisiana Travel Association.
History & Haunts
New Orleans Ghost Tour Reviews
HIGHLIGHT OF MY TRIP TO NEW ORLEANS
"Anyone coming to New Orleans needs to do the History and Haunts Carriage Tour. I thought I knew a lot about New Orleans, but I learned so much about details they don't print in the history books. I'm glad we ended up doing this tour on our first night because throughout our trip the stories came flooding back. Do this tour. Do it first. Then do another. Thank you, Royal Carriages! We will never forget you, and we'll definitely be back!"
-TripAdvisor Member, Jennifer J
FUN RIDE, VERY SCARY GHOST STORIES
"We took the ghost story carriage ride and our driver was great! She made New Orleans and its ghostly history come to life."
-TripAdvisor Member, sladd1955 of Glasgow, Kentucky
WELL WORTH THE MONEY
"Had a great tour around the quarter, passing various historical ghostly places, with lots of good stories by our driver. He was great, very informative and congenial, with a great sense of humor. Highly recommend Royal Carriages for any tour that they do."
-TripAdvisor Member, Janice G
DIFFERENT THAN YOUR AVERAGE TOUR
"We went on a ghost tour on mule and buggy with chicory the amazing mule. The tour guide was really friendly and helpful, lots of awesome history and stories of the horrors and ghosts in the French Quarter!"
- TripAdvisor Member, N. Hillman of Isla Mujeres, Mexico
GREAT STORY TELLING
"We booked this in advance a nightly carriage ride with ghost stories of the French Quarter...very good horse which is called Pearl and she is white and the story teller James great way to relax along the streets hearing the dark tales especially the woman who had her slaves chained at all times even when there was a fire!!!....excellent night cannot recommend this enough after a hard day's walking great way to chill in the evening. Bravo!!!!"
- TripAdvisor Member, poko55 of New Castle, NY

Limited Availability!
Purchase your tickets to guarantee your seat.
Special Notes:
This is a 1-hour group carriage tour travels at a leisurely pace and with small groups exceeding no more than 8 passengers per carriage.

This carriage tour travels throughout the historic French Quarter.

This tour departs from 700 Decatur Street. All tour participants must check in with the Royal Carriages Manager which will place you on the correct carriage for the tour.

Photography is encouraged. We cannot guarantee that you will see a ghost (no one can guarantee that) but past tour participants have taken photos that we believe evidence of ghosts or spirits that appear in the form of unexplainable shadows, orbs, or mist.

Due to the popular nature of this specific tour, tickets are required to guarantee your seat on the carriage. We are usually unable to accommodate those guests who arrive without pre-purchased tickets.

Tickets and instructions are emailed immediately after purchase. Having printed tickets is not necessary.