Royal Carriage is the oldest continually-operating sightseeing carriage company in America! Let us handle your wedding with the same efficient, personal touch that has distinguished us for over 80 years. Give your wedding a royal touch by traveling to your ceremony in our luxury wedding carriage. This beautiful white coach is drawn by a single elegant carriage mule with a driver dressed in a tuxedo.
In New Orleans, our mule-drawn carriage is a wonderful way to enhance your wedding day. After all your efforts of planning your dream day, gliding along in our elegant wedding carriage will allow you the perfect opportunity to simply relax....making the moments last! Our elegant white vis-à-vis wedding carriage seats up to four comfortably, and is uniquely designed to be enjoyed rain or shine! The carriage is absolutely beautiful with the top up or down.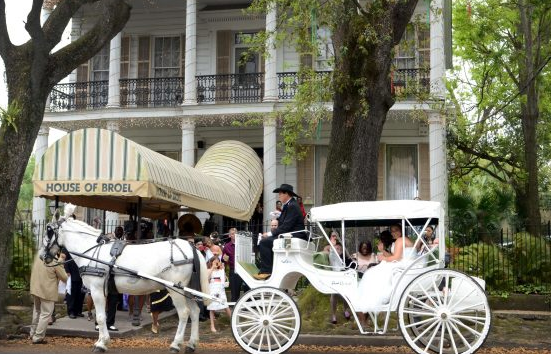 TripAdvisor Review
"We hired the carriage to drive that Father of the Bride and the Bride to the wedding venue. What an arrival! The guest were all taking photos. It was a nice way for the two of them to chill before the big event. The driver took them on a nice little tour of NOLA before the wedding. It was worth every dime. Thanks, Royal Carriages."
-Tina J of Annapolis, Maryland
TripAdvisor Review
"Excellent service from the time of its' planning with Sherman to the actual ride for 30 guests, these guys are a class act and provide Southern Charm every step of the way. Highly recommended!"
-Marc C of California
Service Areas

The novelty of carriage transport is ideal for short distance travel. Our wedding carriage transportation services travel within a 1-mile radius of the French Quarter. Locations outside of this 1-mile radius will be taken into consideration at an increased rate. As you travel at a relaxed pace, you are able to enjoy this day you have worked so hard to plan for. Be sure that the package you purchase allows enough time for a receiving line, photos with the carriage, and travel time to your reception. Royal Carriages services the French Quarter, Central Business District, Marigny, Bywater, City Park and does not service Audubon Park, Gentilly, Metairie, West Bank, North Shore, etc.

Trust in Royal

Feel confident that what you see is what you get. Our photos are recent images of our well-maintained wedding carriage. Royal Carriages prides itself in having beautiful carriages, exceptional animal care, and a professionally trained staffed that will be dressed appropriately for the occasion.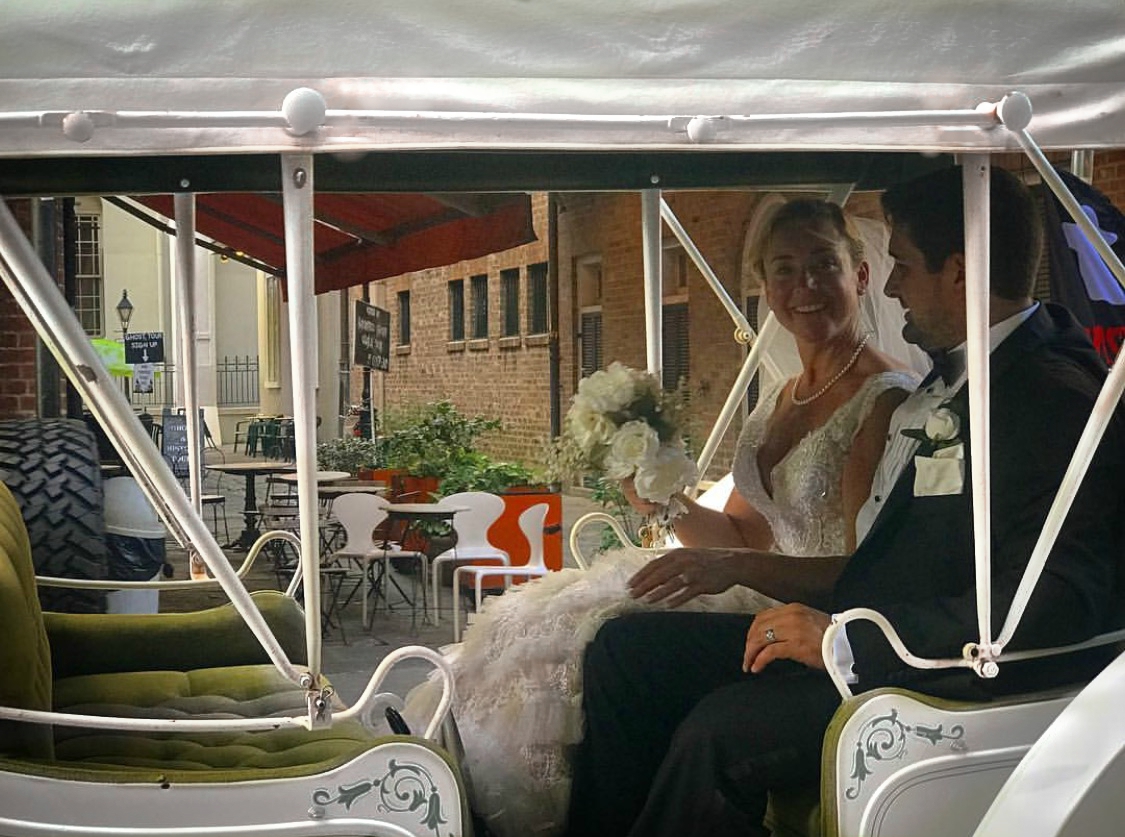 Package A: 1-Hour Total Service for One-Way Transport
Enjoy our VIP Wedding Services for up to 1-hour. Within the hour, you'll arrive at your desired location, enjoy a historic tour (optional - no extra cost), and pose for pictures in the mule-drawn wedding carriage.

Please call for pricing 504-943-8820

Package B: 1.5 Hours of Total Service for One-Way Transport + Return Trip
Enjoy our VIP Wedding Services for 1.5 hours. Arrive at your desired location and pose for pictures. The carriage will return at your scheduled time to provide you with a historic tour (optional - no extra cost) or a quiet romantic ride for up to 1 hour before returning to your final desired location.
Please call for pricing 504-943-8820
Extras: Wedding Party Transportation
Transport your wedding party with our 8-passenger limousine carriages.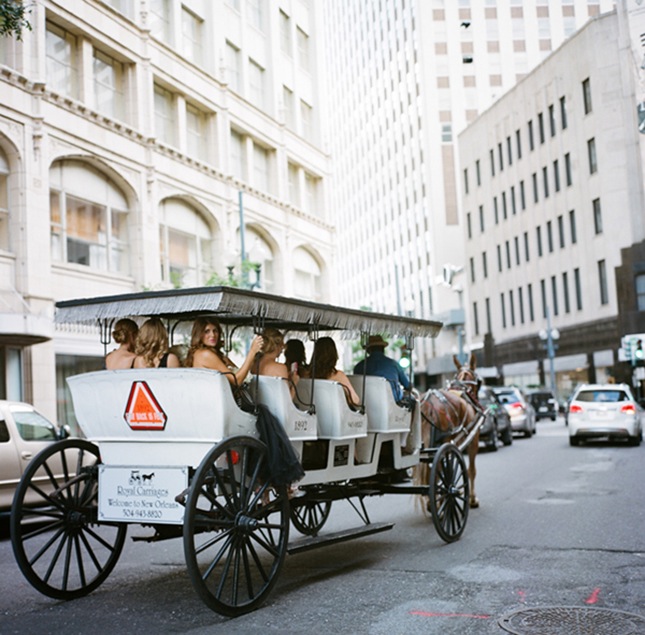 Call 504-943-8820 for availability.
Frequent Wedding Locations serviced by carriage in New Orleans, LA:
Saint Louis Cathedral
Immaculate Conception Jesuit Church
Saint Mary's Italian Church
Saint Mark's United Methodist Church
Our Lady of Guadalupe Shine - Saint Jude's Church
Saint Augustine's Catholic Church
House of Broel
Riverview Room
The Chicory
Marigny Opera House
Melrose Mansion
Latrobe's on Royal
Degas House
Generation's Hall
Brennan's
Astor Crowne Plaza Hotel
Omni Royal Orleans Hotel
Bourbon Orleans Hotel
Dauphine Orleans Hotel
Maison Dupuy Hotel
Royal Sonesta Hotel
Windsor Court Hotel
...and more!!
*Luxury Wedding Carriage Transportation Rates may be increased based on location and/or service time. Clients can expect to pay more if the service area extends to the Garden District or City Park, or if the service time exceeds past midnight. Subject to availability, time, location, traffic, and holidays.*