The French Quarter in New Orleans is known for such captivating history and since it's one of the oldest European settlements in the United States, this historic district is also quite known for many well known spirits of the past.
Ghost Tours in New Orleans have become a main attraction, and hundreds of visitors set out on tour each night, some with hopes that they'll encounter something supernatural.
Walking Tours are the most affordable way to dive into the paranormal history of the French Quarter. With a licensed guide, a large group of 28 tourists are herded through the narrow streets, overhearing the spooky tales of long ago. The popular haunted locations are surrounded by hundreds of participants, but when the bell tolls 10:00 pm, city law states the all of these walking groups must end.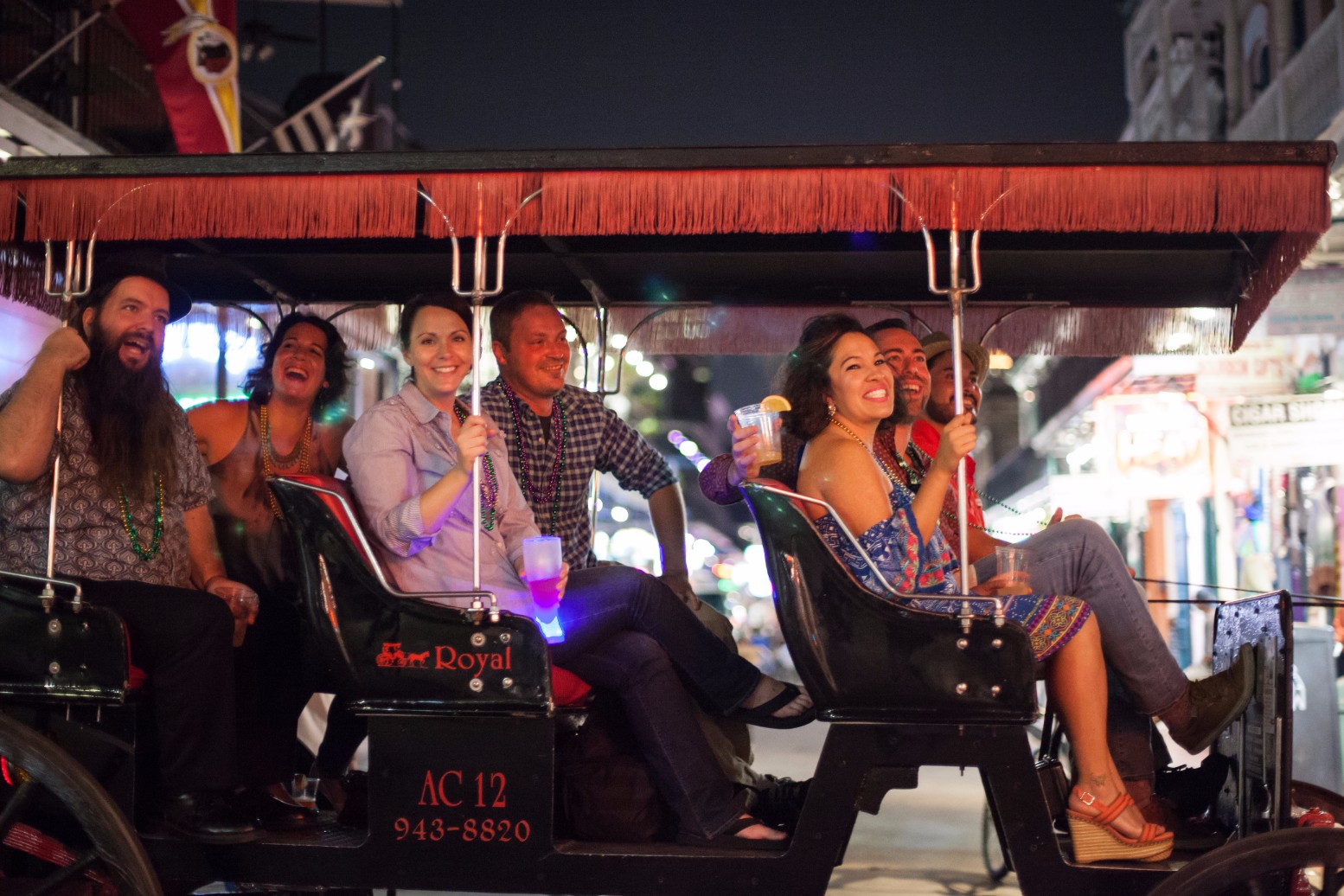 The only option remaining for Late Night Ghost Tours in New Orleans is to set forth on your paranormal adventure via carriage with one of the many expert guides at Royal Carriages. These haunted carriage tours are allowed to operate late into the night after the large walking tour groups have cleared the streets. With carriages that seat up to 8 passengers in each, its easy to hear your guide and the small group experience adds to the fright factor, so does the dark empty streets. Departing each night at 10:00 pm with limited availability, it's highly recommended that you purchase your tickets in advance to guarantee your seat on the carriage for this tour.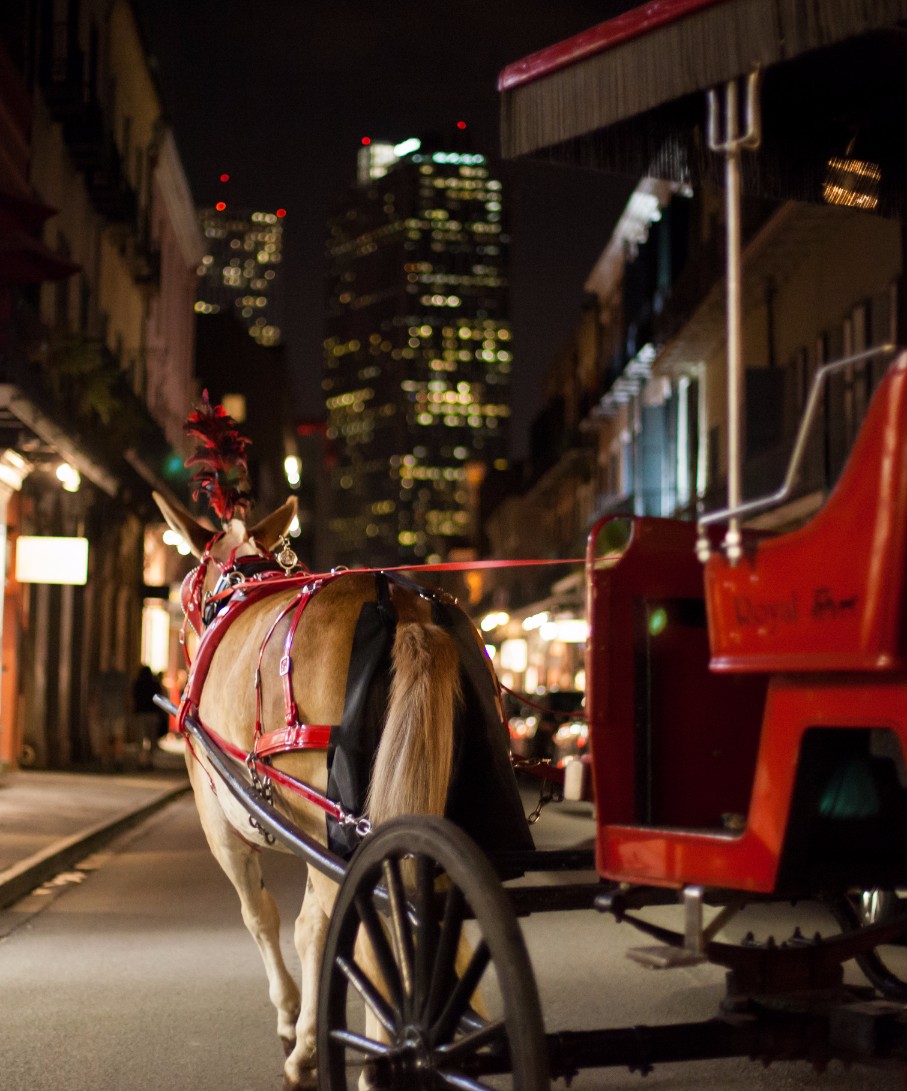 Royal Carriages' History & Haunts Spooky Late Night Ghost Tour will highlight countless stories of death and tragedy that have unearth the restless ghosts of the French Quarter. Here's a sneak peak of what to expect:
Madame Delphine LaLaurie
Most know of this Creole woman from America Horror Story: Season 3, Coven, filmed in New Orleans just a few years ago. While the FX TV Show was horrifying, what actually happened inside this private residence on Royal Street was truly sadistic and terrifying. It's no wonder that this gorgeous 1830's home has sat unoccupied for over 100 years. The current owner, whom we've taken on a carriage ride on several occasions, seems to be in love with mystery of his haunted property, and only visits his French Quarter home a few times each year. Knowing that countless people underwent such odd medical experiments and torture, would you rest easy at night?
Voodoo Queen Marie Laveau
Another famous woman in New Orleans history deserving of her story being told is Marie Laveau, the famed Voodoo Queen who lived on Saint Anne Street in the French Quarter. Voodoo, a primitive ancestry type worship originating in Africa, was banned in the Catholic colony of New Orleans, but this didn't stop the enslaved people from continuing their culture and traditions. Marie Laveau is credited with bringing voodoo to the mainstream, attracting the wealthy men and women to her doorstep requesting various spells and rituals to be casts. Her tomb, located in Saint Louis Cemetery No. 1, attracts more than 150,000 visitors each year.
Pirate Jean Lafitte
Fact and folklore intertwine with most of New Orleans most prominent people, which serves Jean Lafitte well. No one truly knew who he was, where he was from, or where he went, but we do know that he impacted New Orleans greatly in the early 1800s. This pirate was a businessman who smuggled any and everything into New Orleans to be sold. He was always on the run and was admired by many women and men for his charm, wit, and behavior. Lafitte actually encountered British Troops prior to their arrival in New Orleans and worked with Andrew Jackson to defend the city, which provided him and his many men with pardons, allowing them to escape into the swamps free of past crimes.
Vampire Jacque St. Germaine
Womanizing, cultured, and refined, Jacque St. Germaine was a wealthy resident known for his extravagant parties of which the Creole people of the French Quarter truly loved more than anything. What was discovered in his home after one woman reported him for improper behavior was more than alarming, and brings us to believe that St. Germaine was one of the many vampires to live in New Orleans. There were many reportings of blood-sucking fiends before and after him, and the vampiric bloodlust community still exists today in the city, much like it does overseas.
The Gardette-LaPrette House
A wealthy Turkish man, claiming to be royalty, rents this property from a plantation owner upon his ship's arrival to New Orleans in the 1830's. Immediately, the servants reinforce the locks on the property and add heavy drapery to all of the interior windows. After l