Whether you want a unique exit to express your style or a fun way to give your bridal party and even your guests a lift too, there are lots of hot options for your wedding wheels. Wedding planners and brides enjoy thinking outside of the box with Royal Carriages. Our mule-drawn carriage company provides guests with an unforgettable experience for weddings and other special events.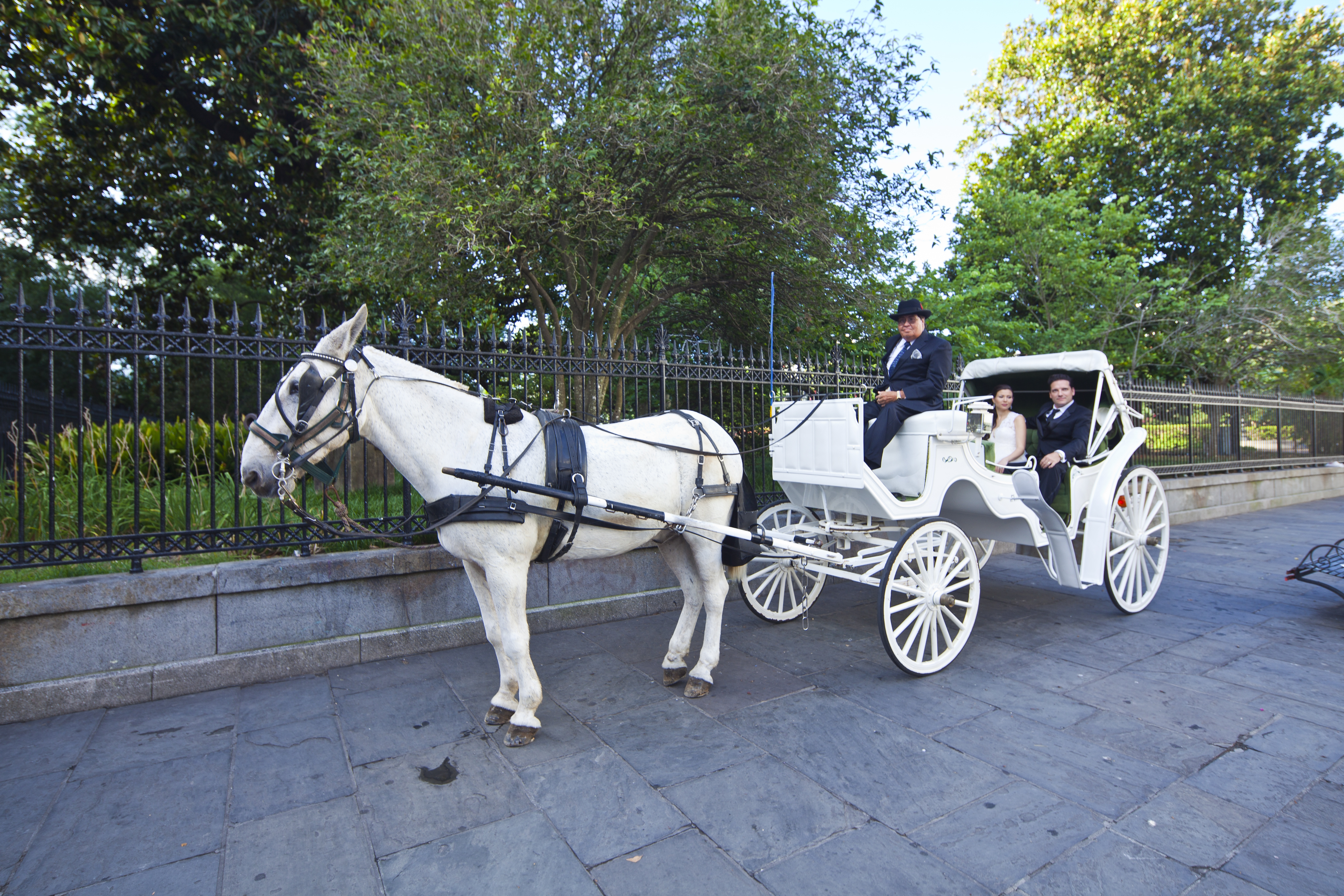 Royal Carriages has specialized in carriage tours and transportation in the New Orleans area for over 75 years. Our authentic carriages can accommodate between two and eight passengers, so you can even bring your honor attendants, along, or rent multiple carriages to lead the entire wedding party on a royal-style procession. Royal Carriages can transport 85 guests at once with our fleet. Make your New Orleans wedding truly authentic with Royal Carriages.
With the costs of second-line bands, permits, and police escorts, many wedding couples are choosing to let the good times roll by using authentic carriages as a celebratory activity for the wedding guests. Imagine your own mule-drawn procession through the old streets of New Orleans. By doing so, our carriages provide all guests, no matter the age, the opportunity to share in the excitement of your special event.

Graphic Design: MidnightBoheme.com | Photographer: ArtsyPhotographer.com

CARRIAGE RIDE TO THE CEREMONY: The bride can share this special moment with her father or her bridesmaids, as the carriage transports her to the church or ceremony.
CARRIAGE RIDE TO THE RECEPTION: While the guests arrive at the reception, enjoy a carriage ride, or even a carriage tour, of the French Quarter. This allows enough time for your guests to get to the reception and gives you a grand entrance to the party.
AFTER RECEPTION CARRIAGE RIDE: Wedding Carriage Transportation after the reception allows the bride and groom to rest their tired feet, allowing the newlyweds the opportunity to cuddle up and enjoy a relaxing and romantic midnight carriage ride, ending at their hotel.
Royal Carriages is available for:
Wedding Carriage Transportation

Rehearsal Dinners

Bachelor/Bachelorette Parties

Family Familiarization Tours

Wedding & Anniversary Gifts

Ceremony/Reception Venue Rental

Bridal Photo Shoots

Surprise Engagement Proposals