For as long as I can remember I have always been in love with equines. As a child, I begged and begged my father for a horse. I believe he thought I would grow out of it, but by the time I was eight years old, he realized this wasn't a phase. We lived on a small farm about twenty miles West of Casper, WY that my father purchased when I was about six. One of the first animals my father got for the farm was a Shetland pony named Shorty who taught me as a small child all the easy and difficult things about having an equine friend. My body still bears a few scars from our original adventures together.
It was when I set up wood fence rails on top of buckets and short posts and started teaching my pony to jump that my father decided it might be time for a full-size horse. This started an adolescence of competitive jumping and showing. We never had mules on our farm although we had friends with mules who participated in mule day's events and pack horse races around the country. I remember competing against a girl who had a mule that she jumped with. Yet, like most people, as a youngster, I remained pretty snobbish towards the long ears and their abilities.
As I reached adulthood, I would've liked nothing more than to make a profession in animals but, agricultural opportunities were slim in the late 80's and early 90's, and my parents urged me on to college where I just couldn't decide on a major. Eventually, I became a paramedic and moved to New Orleans, LA where I worked for the city of New Orleans until 2010, including during hurricane Katrina in 2005. Time and circumstances will eventually take its toll on a paramedic's body and mind and as my mother was aging, I felt the pressure of a job that has little room for family leave wearing on me.
One night my partner and I were driving the ambulance down Decatur street in the French Quarter and as we passed Jackson Square I saw the carriages lined up there and thought back to a time about fifteen years earlier when I'd seen an ad in the newspaper for carriage driver positions. In New Orleans, the carriages use mules to pull them (it has been a law since the early 1980's) and I loved walking around the square and taking in all the smells and affections of the horse hybrid that brought back memories of my childhood. Walking by Jackson Square was just about the only equines I got to experience since the days back on the farm of my childhood. Although I'd been interested in the carriages all those years ago when I saw the ad, I thought there was no way that I would ever be hired for the position since I'd never driven a carriage, much less in city traffic. Something in me that night in the ambulance was different and I decided that carriage driving was the alternative I was looking for.
The next day I started checking into the process and found out about the licensing for tour guides. I signed up for a class through the Louisiana State museum system that trains tour guides on the history of the French Quarter. After a month long every day of the week intensive program, I arrived at the offices of Royal Carriages armed with my tour guide license, my resume, and a staunch determination to become a carriage driver. A couple of days later I was learning how to drive a mule!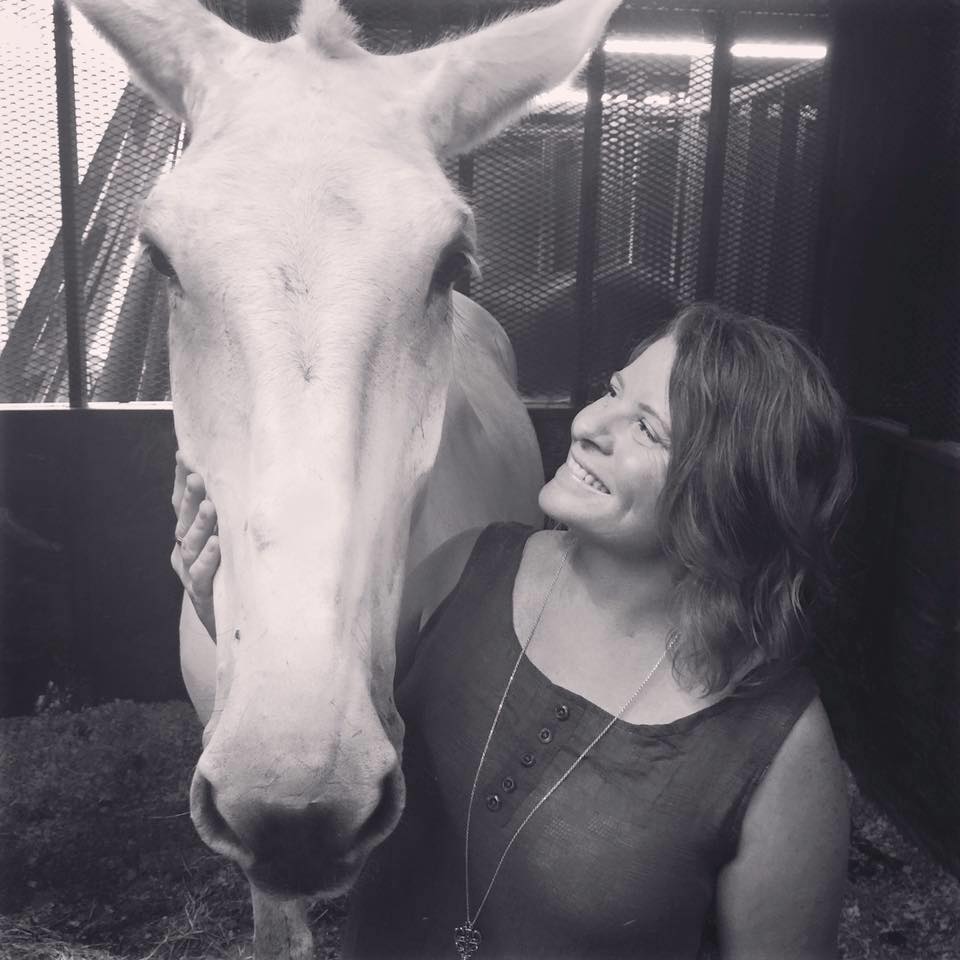 Pictured is Blue who assists Kim in training new mules
My trainer told me to throw away anything I ever knew about horses because mules were totally different. I wouldn't say it's a good idea to throw away all your equine knowledge but it wasn't long before I realized how incredibility smart and special mules are. My childhood experiences came flooding back to me and just like when I was a child I wasn't nearly satisfied with just holding onto the lines while my mule leisurely ambled around the French Quarter. I found myself consistently working on my technique to improve my line handling and communication with my mule. My mule partners impressed me daily with how smart and responsive they were to me. I love to call the mules connivingly smart. As time passed, I was handed more and more challenging mules based on my ability, until I was driving the newly trained mules.
In July of 2013, the trainer suffered a debilitating hand injury that required surgery and in the days following, I arrived at the stable to help him groom and dress the mules that he was currently training, as his bandaged hand made it impossible to do some tasks. I also rode along with him in case he needed help during the process. Before long everyone considered me the assistant trainer, helping with the daily training even after his hand had healed. In April 2015, the trainer left the company and I was promoted to his position. I wasn't quite sure I was ready but, we had nine mules in the wings waiting to be trained so it was time to step up to the task.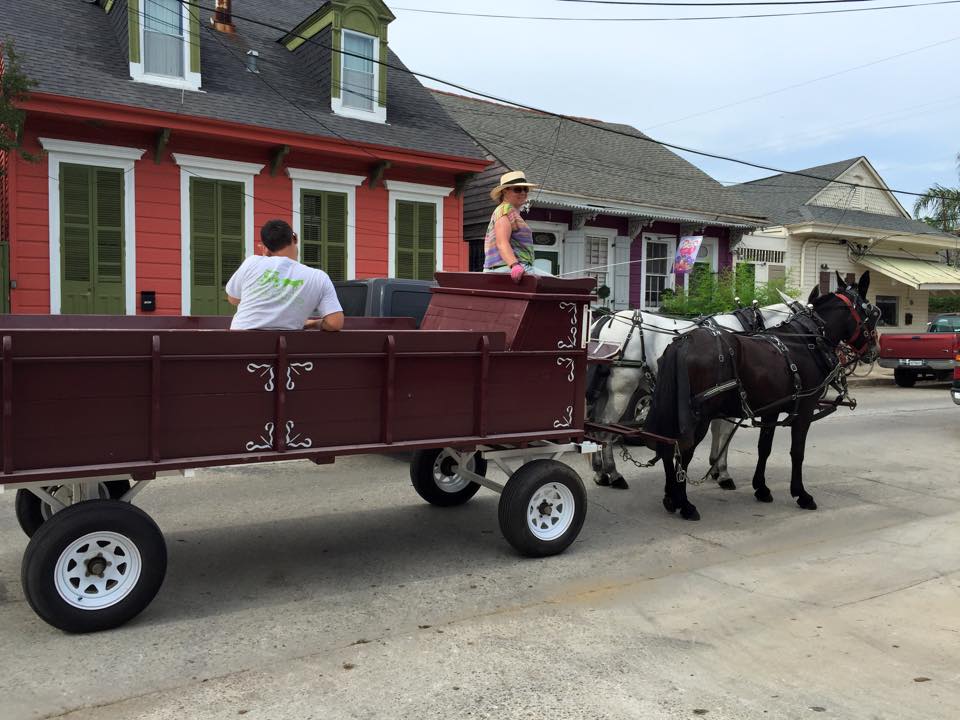 Week 2 of Training Elizabeth
The hardest part about training the mules is the location I'm training them in, the French Quarter. The mules come to me with some training already but they've never been in a city, or seen traffic, street construction, or pedestrians in feather boas with hurricane cocktails on Bourbon Street. The mules and I are on stage every day in front of thousands of people who know nothing about mules much less the training process. That means that nothing can go wrong once I'm out in the French Quarter with a new mule. If people feel the mule is sweating too much or if it has a little white saliva around its bit from working, or it struggles with an obstacle, I'm suddenly the center of attention and advice. That aspect alone was nerve racking at first because I was so afraid of making mistakes and having the general public go crazy yelling at me. These days my skin is much thicker and I'm often so focused on my mule that I rarely hear comments from the sidelines. Most individuals although well intentioned, are grossly uneducated in mulemanship and they all come bearing an opinion.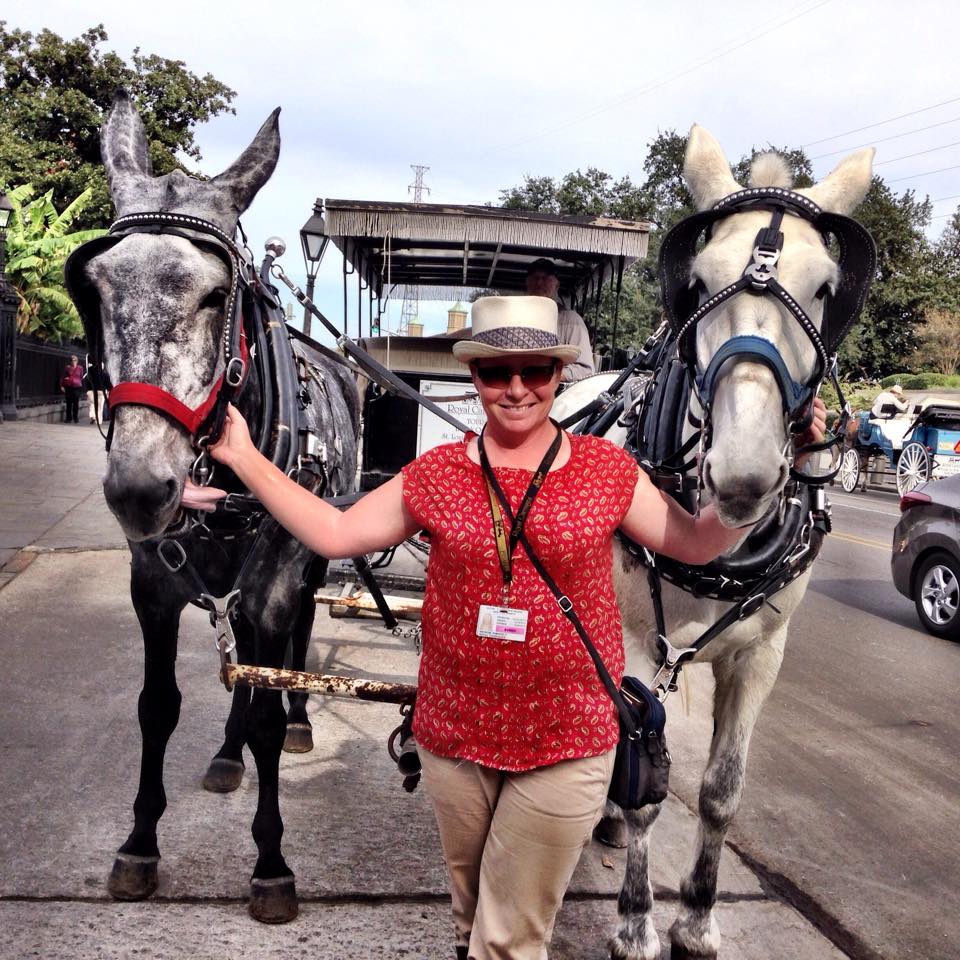 Week 1 of training Foot Loose
I love training the mules. I love watching them progress as they learn new tasks and become familiar with their new jobs. It's amazing to me when I see them learn something and remember it and when I watch them figure out an obstacle while those long ears I love to call radar turn forward and back while they think and listen to directions. I love the bonding process with the mules when I recognize that they've begun to trust me and depend on me for direction. There is something very therapeutic to my soul every morning when I walk into the stable, and I'm greeted by their beautiful faces. Each one hanging their head out of the stall looking for their morning affection.
I don't miss being a paramedic, I realized what I was missing in my life was the fulfillment that working with a mule brings. So many of my co-workers are the same way. Many leaving professional careers like teaching, drafting, and the legal field to work with mules guiding visitors around our magnificent city.
-Kim Weikum, Stable Manager at Royal Carriages