In my early 20s, I left behind a good job, friends, and family in rural Louisiana for a life in The Big Easy. Never living in a city, I was completely unprepared for such change. Constantly struggling to find enough work to pay rent like most, I found myself slinging drinks on at a jazz club on Bourbon Street. Working late nights in a crowded and smoky environment for months on end was enough to drive for me to find something different.
For years, I had wanted to become a licensed city tour guide, but the application process and tests through City Hall were discouraging. I wanted formal education to prepare me and within a few months, I graduated from the Friends of the Cabildo Tour Guide Class and began working as a professional city tour guide. Walking groups of 25+ visitors throughout the French Quarter for 2-hours at a time was not as much fun as it seemed and neither was giving tours on a tour bus. Once again, I found myself struggling financially and still searching for a rewarding experience.
Through Friends of the Cabildo, I met an older man with a big smile named Mick. After expressing my concerns to him, he told me that I needed to work as a carriage driver for Royal Carriages. I never considered driving carriages or working with "poor overworked horses" and my own stubborn ignorance didn't think highly of the carriage industry. He laughed and said, "If you see anything you don't like, then don't do it."
Before applying to Royal Carriages to work as a carriage driver, I researched the carriage industry. I wanted to know everything that I could about what I was about to do. I learned that the horses were not horses at all, but mules, and that Royal Carriages has been in business since 1941! My confidence in the industry grew, and I looked forward to my job interviews with Royal Carriages. I even came across a vintage brooch of a horse-drawn carriage at a local thrift shop, felt that fate was working its magic, and wore it as good luck to the interview.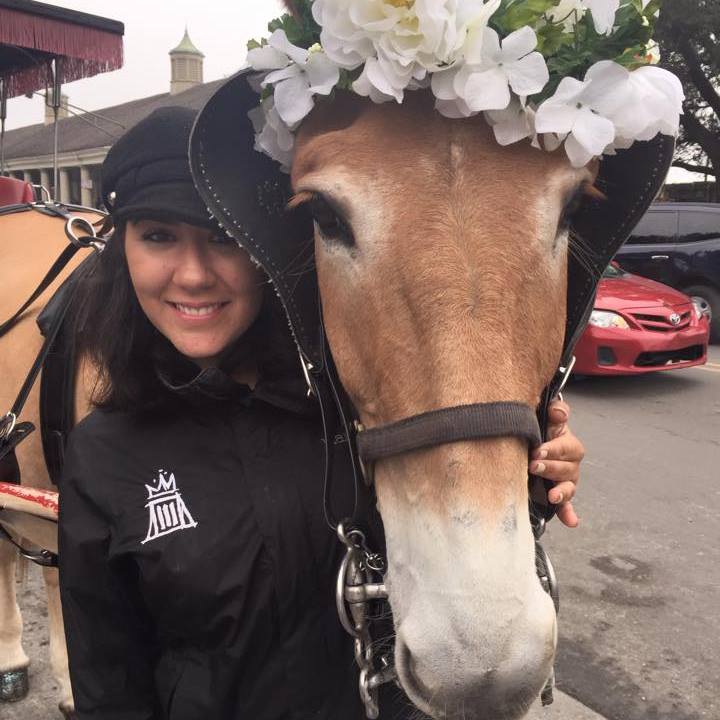 Nancy is pictured with Queenie

Most carriage drivers agree that it is the best job in the city. We have the opportunity to spend our days working with hard-working and hard-loving mules that are well cared for, and provide visitors with the best tour experience possible. Our mule-drawn carriages enhance the beauty of the French Quarter, and the initial encounter that people have with a carriage mule can be unforgettable. Artists have painted works of art of my mule and me, and our photo has been taken by countless strangers. Those types of things don't happen when you are a walking tour guide or a bus tour guide.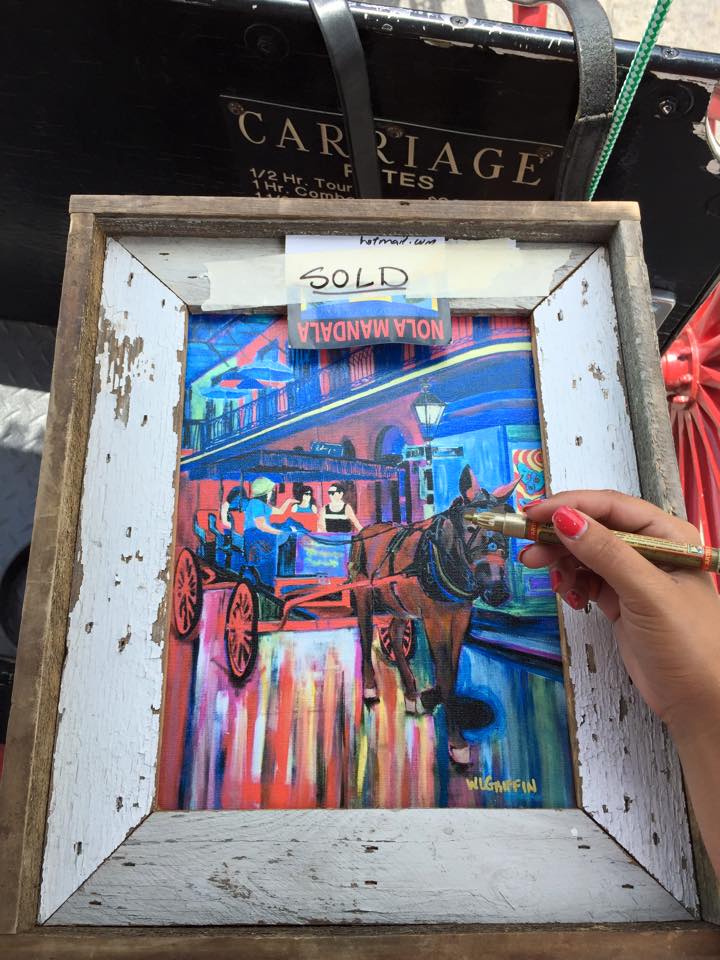 Original Artwork by New Orleans Artist Wayne Griffin
Over the years, I have become somewhat of a carriage mule-advocate. Whenever someone discovers that I work as a carriage driver, they have a ton of questions. They are always surprised and delighted to hear my response. I show them pictures of the carriage mule that I work with on my cell phone and speak of it as if it were my child. They are reassured knowing that people like me truly do fall in love with their working partners.
When you're a newbie, your mule teaches you a lot. One of the most important things I've learned is that life is like a stubborn mule. You can try to be in control, but you're not. I do my best to just work with it. I believe that fate can be a series of unfortunate events that lead you to a worthwhile experience. In this case, it leads me to loving mules and appreciating those who work with equines in various industries. I'm one of those "mule-crazy" people now.